Zoology department was established in 1965 and emerged as one of the best learning centers in Pune University. At present Zoology department is a well flourished department which runs UG and P.G. courses along Ph.D. research center. The current research areas in the Department include Developmental Biology, Entomology, Parasitology, Fishery Science, Hydrobiology, Bacteriology. The department has a well-equipped instrument facility with best infrastructure and laboratories. The departmental library is well maintained with more than 300 books.
The department has completed 06 projects up till now and brought about Rs. 21,79,000/- from various funding agencies like UGC and BCUD etc. There are near about 50 research papers since 2016, published in the national and international journals. Faculty members are also on the editorial board and/or as adhoc reviewers for many prestigious national and international journals and are the members of various research associations or societies
The department was honored by various awards and prizes including Special Achievement award of 5'S'and 10'S' gold and silver medals in Student Research Scheme. One faculty member was honored as Best teacher award and two members have received Inspiration award from the management of the college. The department is honored by institutional membership of International society of Zoological Sciences, China. The department was hosted as a 'Guest of honor' on the website of ISZS for a month.
| Faculty | 11 |
| --- | --- |
| Ph.D. | 04 |
| CSIR -NET-JRF | 03 |
| CSIR- NET - LS | 01 |
| SET | 01 |
| GATE | 03 |
| | |
| --- | --- |
| Ph.D Guide | 03 |
| M.Phil. Guide | 03 |
| P.G. Rec. | 04 |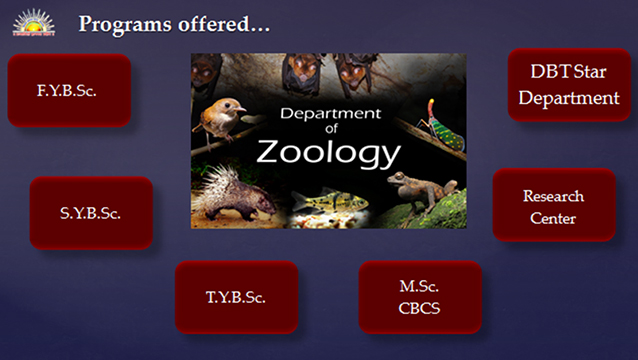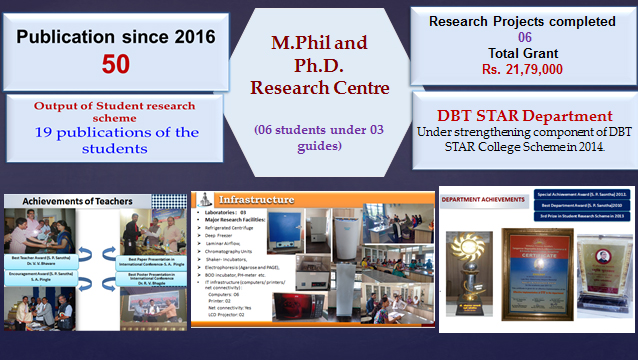 Courses run by the department:
| Level | Course/Degree | Intake Capacity |
| --- | --- | --- |
| UG | B.Sc. Zoology (Hons) | 24 |
| PG | M.Sc. Entomology | 24 |
| Add-on | - | - |
| Other | - | - |